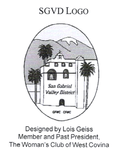 The San Gabriel Valley District #20
(SGVD) consists of 28 Federated Clubs and 3 Affiliate Groups with a combined membership of about 1,400. San Gabriel Valley District is located in AREA B and is a member of the California Federation of Women's Clubs (CFWC), and the General Federation of Women's Clubs (GFWC). We actively collaborate with the CFWC and the GFWC to promote activities in the following areas:
Advocates for Children

Arts and Culture (Art contest, crafts contest, creative writing contest, music competition, photography contest, music scholarships are awarded to graduating seniors.)

Communications and Public Relations

Environment

Domestic & Sexual Violence Awareness and Prevention

Education and Libraries (Academic scholarships are provided to graduating seniors.)

Fundraising

Health & Wellness

Leadership (LEADS)

Legislation and Public Policy

Women's History and Resource Center

Civic Engagement and Outreach
The California Federation of Woman's Clubs
The emblem of the California Federation of Women's Clubs was designed by Miss Bernice Scoville. The emblem is the insignia of a common cause and is meant to create a spirit of cooperation among those who wear it. The torch represents the educational work of the Federation and invites all to learn of the principles of American Citizenship. The wings pointed upward are symbolic of the higher thoughts and aspirations which are the aim of all. The band encircling both typifies the unbroken chain of strength and loyalty - loyalty not only to the Clubs, but also to our State.
The motto of the California Federation is "Strength United is Stronger", chosen because it best portrays how our clubs work together. The goals of the Califonia Federation of Women's Clubs, CFWC include (1) Building leaders and Training volunteers, (2) Providing service to those in need, (3) Active advocacy in legislation, (4) Encouraging enrichment programs for members, and (5) creating opportunities for volunteerism. For more information about the California Federation of Women's Clubs visit www.cfwc.org.
The General Federation of Woman's Clubs,GFWC
The General Federation Motto, "Unity in Diversity" emphasizes our ability to use the diversity of our backgrounds to work toward a unified vision and purpose. Historic accomplishments include (1) Founding more than 75 percent of our nations' libraries, (2) Developing kindergarten programs in public schools, (3) Working for food and drug regulation, and (4) Leading the drive for emergency relief support. For more information about the General Federation of Women's Clubs, visit www.GFWC.org